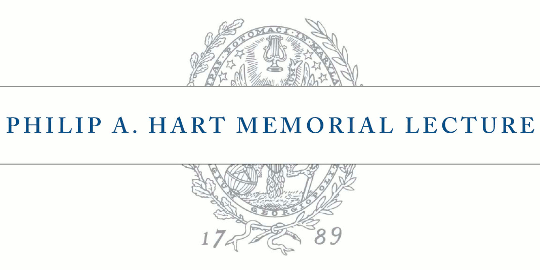 Title
Human Rights in Times of Terror: A Judicial Point of View
Publication Date
3-21-2007
Abstract
On March 21, 2007, Professor of Law, Aharon Barak at Hebrew University and Lecturer of Law at Yale Law School, delivered the Georgetown Law Center's twenty-seventh Annual Philip A. Hart Memorial Lecture: "Human Rights in Times of Terror: A Judicial Point of View."
The Honorable Aharon Barak is a Visiting Professor of Law and the Gruber Global Constitutionalism Fellow at Yale Law School. Originally appointed Justice of the Supreme Court of Israel in 1978, Justice Barak served as Supreme Court President from 1995 until 2006. He studied law at the Hebrew University of Jerusalem where, after completing a term of service in the Israeli Defense Forces, he received his Doctorate in Law in 1963.
Recommended Citation
28 Legal Stud. 493-505 (2008)
This document is currently not available here.
COinS