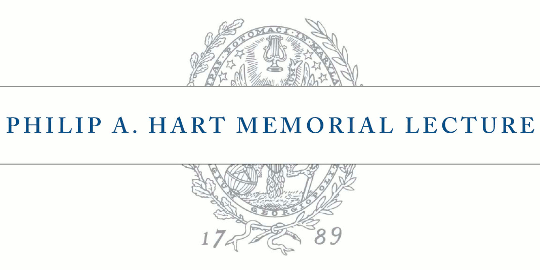 Title
Some Call It 'The Right to Die'
Publication Date
4-16-1988
Abstract
On April 16, 1988, Professor of Law, Yale Kamisar of University of Michigan, delivered the Georgetown Law Center's eighth Annual Philip A. Hart Memorial Lecture: "Some Call It 'The Right to Die'."
Yale Kamisar, the Clarence Darrow Distinguished University Professor of Law Emeritus at the University of Michigan Law School, is a nationally recognized authority on constitutional law and criminal procedure. A graduate of New York University and Columbia Law School, he has written extensively on criminal law, the administration of criminal justice, and the "politics of crime." He is author of Police Interrogation and Confessions: Essays in Law and Policy and co-author of Criminal Justice in Our Time, and The Supreme Court: Trends and Developments (five annual volumes). He wrote the chapter on constitutional criminal procedure for The Burger Court: The Counter-Revolution That Wasn't, The Burger Years, and The Warren Court: A Retrospective. He is also co-author of two widely used casebooks: Modern Criminal Procedure: Cases, Comments & Questions, all ten editions, and Constitutional Law: Cases, Comments & Questions, all nine editions. In addition, he has written numerous articles on police interrogation and confessions; right to counsel; search and seizure; and euthanasia and assisted suicide and is widely quoted on these subjects. Professor Kamisar taught at the University of Minnesota Law School from 1957-64 and joined the University of Michigan law faculty in 1965.
Recommended Citation
Kamisar, Yale, "Some Call It 'The Right to Die'" (1988). Philip A. Hart Memorial Lecture. 20.
http://scholarship.law.georgetown.edu/hartlecture/20
This document is currently not available here.
COinS