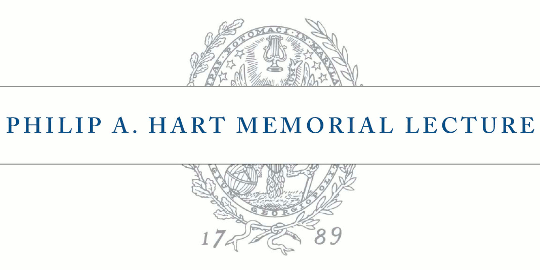 Title
Equality in the American Constitution
Publication Date
3-24-2004
Abstract
On March 24, 2004, the Honorable Guido Calabresi, United States Circuit Judge, U.S. Court of Appeals for the Second Circuit and Sterling Professor Emeritus of Law and Professorial Lecturer in Law, Yale Law School, delivered the Georgetown Law Center's twenty-fourth Annual Philip A. Hart Memorial Lecture: "Equality in the American Constitution."
Judge Calabresi was appointed United States Circuit Judge in July 1994, and entered into duty on September 16, 1994. Prior to his appointment, he was Dean and Sterling Professor at Yale Law School, where he began teaching in 1959, and is now Sterling Professor Emeritus and Professorial Lecturer in Law. Judge Calabresi received his B.S. degree, summa cum laude, from Yale College in 1953, a B.A. degree with First Class Honors from Magdalene College, Oxford University, in 1955, an LL.B. degree, magna cum laude, in 1958 from Yale Law School, and an M.A. in Politics, Philosophy and Economics from Oxford University in 1959. A Rhodes Scholar and member of Phi Beta Kappa and Order of the Coif, Judge Calabresi served as the Note Editor of The Yale Law Journal, 1957-58, while graduating first in his law school class. Following graduation, Judge Calabresi clerked for Justice Hugo Black of the United States Supreme Court. He has been awarded some forty honorary degrees from universities in the United States and abroad, and is the author of four books and more than one hundred articles on law and related subjects.
Recommended Citation
Calabresi, Guido, "Equality in the American Constitution" (2004). Philip A. Hart Memorial Lecture. 14.
http://scholarship.law.georgetown.edu/hartlecture/14
This document is currently not available here.
COinS