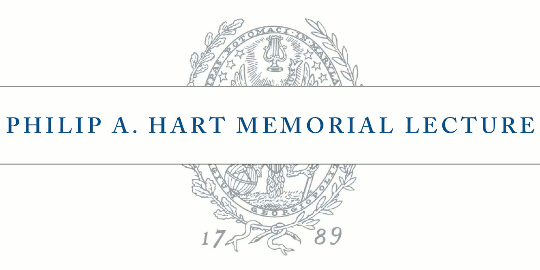 Title
Life's Dominion: An Argument About Abortion and Euthanasia
Abstract
In 1993, Professor of Jurisprudence, Ronald Dworkin of Oxford University and Professor of Law at New York University, delivered the Georgetown Law Center's thirteenth Annual Philip A. Hart Memorial Lecture: "Life's Dominion: An Argument About Abortion and Euthanasia."
Dworkin is Professor of Philosophy and Frank Henry Sommer Professor of Law at New York University. He received B.A. degrees from both Harvard College and Oxford University, and an LL.B. from Harvard Law School and clerked for Judge Learned Hand. He was associated with a law firm in New York (Sullivan and Cromwell) and was a professor of law at Yale University Law School from 1962-1969. He has been Professor of Jurisprudence at Oxford and Fellow of University College since 1969. He has a joint appointment at Oxford and at NYU where he is a professor both in the Law School and the Philosophy Department. He is a Fellow of the British Academy and a member of the American Academy of Arts and Sciences. Professor Dworkin is the author of many articles in philosophical and legal journals as well as articles on legal and political topics in the New York Review of Books.
He has written Taking Rights Seriously (1977), A Matter of Principle (1985), Law's Empire (1986), Philosophical Issues in Senile Dementia (1987), A Bill of Rights for Britain (1990), Life's Dominion (1993), and Freedom's Law (1996).
Recommended Citation
Dworkin, Ronald, "Life's Dominion: An Argument About Abortion and Euthanasia" (1993). Philip A. Hart Memorial Lecture. 19.
https://scholarship.law.georgetown.edu/hartlecture/19