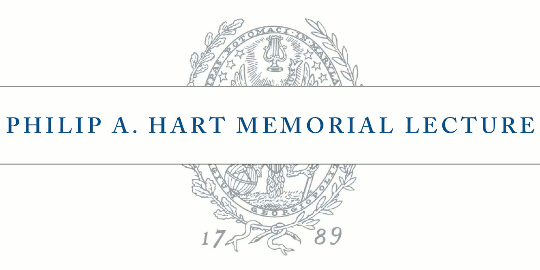 Title
Does the Criminal Law Have Much to Do with Crime?
Publication Date
4-2-1986
Abstract
On April 2, 1986, Professor of Law, John Kaplan of Stanford University, delivered the Georgetown Law Center's sixth Annual Philip A. Hart Memorial Lecture: "Does the Criminal Law Have Much to Do with Crime?."
Professor Kaplan received his A.B. degree from Harvard in 1951, where he majored in physics. Professor Kaplan soon turned his career interests to law, however, that undergraduate specialization engendered in him a lifelong interest in both the natural and social sciences that later enriched his legal scholarship. He received his LL.B. degree from Harvard Law School in 1954, where he was an editor of the Harvard Law Review. After graduation, he was selected to be a law clerk to the Hon. Tom C. Clark, Associate Justice of the Supreme Court of the United States, whom he served in the 1954-55 term. After completing his clerkship, he journeyed to Europe, where he studied criminology at the University of Vienna. Then, after a year with the United States Department of Justice, he became a federal prosecutor, serving as Assistant United State Attorney for the Northern District of California from 1958 to 1961.
He became Associate Professor of Law at Northwestern University from 1962 to 1964, and then Visiting Professor of Law at Boalt Hall Law School at the University of California at Berkeley from 1964 to 1965. In 1965, Professor Kaplan joined the Stanford Law School faculty, where, except for an appointment as a Visiting Professor at Harvard in 1984-85, he spent the rest of his renowned teaching career. In 1974, he succeeded the late Herbert Packer as Jackson Eli Reynolds Professor.
In his almost three decades in the academic world, Professor Kaplan distinguished himself as one of the foremost scholars of our criminal justice system. In addition to numerous scholarly articles, his writings include widely noted books focusing on the actual workings of the criminal judicial process, including The Trial of Jack Ruby (with Jon R. Waltz) in 1966, and The Court-Martial of the Kaohsiung Defendants (1981). Professor Kaplan probably achieved his greatest fame with his pioneering works on the criminal regulation of illicit drugs, most notably his 1970 book, Marijuana: The New Prohibition and his 1983 work, The Hardest Drug: Heroin and Public Policy. In these works, he offered encyclopedic and extraordinarily clear analyses of the scientific, political, economic, and legal aspects of drug regulation, subjecting common assumptions about the feasibility of regulation to penetrating critical analysis.
Recommended Citation
Kaplan, John, "Does the Criminal Law Have Much to Do with Crime?" (1986). Philip A. Hart Memorial Lecture. 23.
https://scholarship.law.georgetown.edu/hartlecture/23