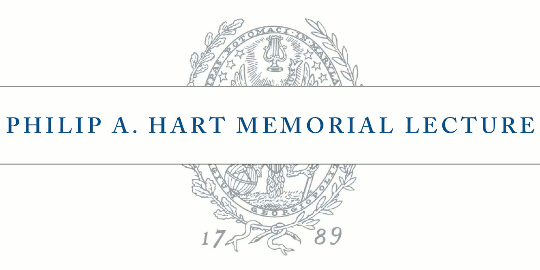 Title
The Training of Lawyers: From Bar Exam Passage to Full Lawyer Proficiency
Publication Date
4-7-1984
Abstract
On April 7, 1984, Professor of Law, Albert M. Sacks of Harvard Law School, delivered the Georgetown Law Center's fourth Annual Philip A. Hart Memorial Lecture: "The Training of Lawyers: From Bar Exam Passage to Full Lawyer Proficiency."
In his 10 years as dean of the Harvard University Law School, Professor Sacks developed the school's comprehensive clinical teaching program and its mandatory course on professional responsibility. He established the Office of Clinical Programs and the Legal Services Institute in the Jamaica Plain neighborhood of Boston. He also expanded opportunities for research by members of the law school faculty.
Professor Sacks, a specialist in constitutional law and legal process, joined the faculty at the law school in 1952 and served for 39 years. He was named a professor in 1955, and was regarded as one of the law school's most popular teachers. From 1968 to 1971 he served as associate dean of the school during turbulent years on campus. In 1969 he was named Dane Professor of Law and became dean two years later. Saying 10 years was a proper tenure, he stepped down as dean in 1981 and resumed teaching.
Recommended Citation
Sacks, Albert M., "The Training of Lawyers: From Bar Exam Passage to Full Lawyer Proficiency" (1984). Philip A. Hart Memorial Lecture. 24.
https://scholarship.law.georgetown.edu/hartlecture/24