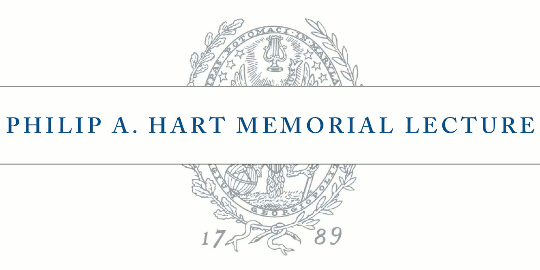 Title
The Role of the Solicitor General in Shaping Issues for the Supreme Court
Publication Date
9-17-1980
Abstract
On September 17, 1980, Solicitor General of the United States, the Honorable Wade H. McCree, Jr., delivered the Georgetown Law Center's first Annual Philip A. Hart Memorial Lecture: "The Role of the Solicitor General in Shaping Issues for the Supreme Court."
In 1952, McCree was appointed by Michigan Governor G. Mennen Williams to the state's Workmen's Compensation Commission and in 1954 to a vacancy on the Wayne County Circuit Court. He won election to the unexpired term in 1955, the first African American elected to a court of record in Michigan, and to a full six-year term in 1959. In 1961 President Kennedy appointed Judge McCree to the U.S. District Court for the Eastern District of Michigan, where he served until his appointment in 1966 to the U.S. Sixth Circuit Court of Appeals. He resigned from that court in 1977 to accept an appointment as U.S. solicitor general in the Carter administration. As an appeals court judge, McCree took part in a number of school desegregation cases. As the federal government's lawyer, he argued the Bakke "reverse discrimination" lawsuit against the University of California at Davis before the Supreme Court, amongst others.
He was the recipient of numerous honors and awards, including the Fordham-Stein Award for his "talent, professionalism and nobility of spirit" and honorary Doctor of Laws degrees from Harvard, the University of Pennsylvania and Howard University, among many others.
Recommended Citation
McCree, Wade H., "The Role of the Solicitor General in Shaping Issues for the Supreme Court" (1980). Philip A. Hart Memorial Lecture. 27.
https://scholarship.law.georgetown.edu/hartlecture/27