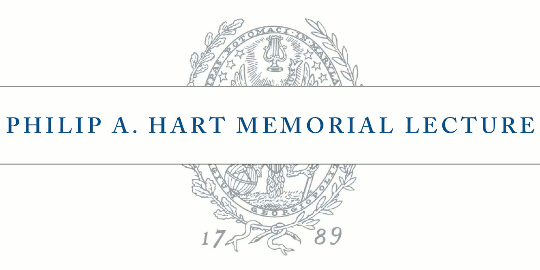 Publication Date
3-19-2008
Abstract
On March 19, 2008, the Honorable Richard Goldstone, former justice on the Constitutional Court of South Africa, delivered the Georgetown Law Center's twenty-eithth Annual Philip A. Hart Memorial Lecture: "The Future of International Criminal Justice."
Goldstone graduated from the University of the Witwatersrand with a BA LLB cum laude in 1962. After graduating, he practiced as an advocate at the Johannesburg Bar.
In 1976 he was appointed senior counsel and in 1980 was made a judge of the Transvaal Supreme Court. In 1989 he was appointed to the Appellate Division.
From 1991 to 1994 he served as the chairperson of the Commission of Inquiry Regarding Public Violence and Intimidation, which came to be known as the Goldstone Commission.
He served as a judge of the Constitutional Court of South Africa from July 1994 to October 2003.
From 15 August 1994 to September 1996 he served as the chief prosecutor of the United Nations' International Criminal Tribunals for the former Yugoslavia and Rwanda.
From August 1999 until December 2001 he was the chairperson of the International Independent Inquiry on Kosovo. In December 2001 he was appointed the co-chairperson of the International Task Force on Terrorism, which was established by the International Bar Association.
In April 2004 the secretary-general of the United Nations appointed Goldstone to the independent committee to investigate the Iraqi oil-for-food program (the Volcker Committee). In October 2007 he was appointed by the Registrars of the United Nations International Criminal Tribunals for the former Yugoslavia and Rwanda to chair an Advisory Committee on the Archiving of the Documents and Records of the two tribunals.
Recommended Citation
57 Me. L. Rev. 554-568 (2005)