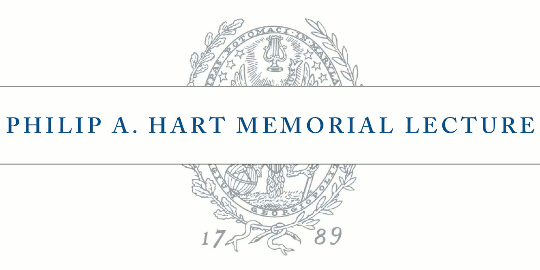 Title
The Strange History of The BIll of Rights
Publication Date
4-10-2013
Abstract
On April 10, 2013, William Rand Kenan, Jr., Professor of American History, Pauline Maier of Massachusetts Institute of Technology, delivered the Georgetown Law Center's thirty-third Annual Philip A. Hart Memorial Lecture: "The Strange History of the Bill of Rights."
Pauline Maier was the William Rand Kenan, Jr., Professor of American History at MIT. She went to Radcliffe College (Class of 1960), spent a year as a Fulbright scholar at the London School of Economics, and received her Ph.D. in History from Harvard in 1968. She was on the faculty of the University of Massachusetts, Boston, and the University of Wisconsin, Madison, where she was the Robinson-Edwards Professor of History, before going to MIT in 1978. She has served on the boards of several journals and historical organizations, is a member of the American Academy of Arts and Sciences, and holds honorary doctorates from Regis College (1987) and Williams College (1993). She was president of the Society of American Historians for 2010-2011.
As a scholar, she writes mainly on the American Revolution and its heritage. She is best known for American Scripture; Making the Declaration of Independence (Knopf; New York, 1997), which was on the New York Times Book Review editors' choice list of the eleven best books, fiction and nonfiction, of 1997 and a finalist for the National Book Critics' Circle Award, and for Ratification: The People Debate the Constitution, 1787-1788 (Simon and Schuster; New York, 2010). The New York Times Book Review included Ratification on its annual list of 100 notable books published in 2010; the Wall Street Journal put it among the top ten books of 2010, and Esquire magazine among the ten best books of 2011. Ratification won the 2011 Frances Tavern Museum Book Award (shared with Ron Chernow's Washington: A Life) and the George Washington Book Prize, which is awarded annually to the best book on America's founding era, especially those that have the potential to advance broad public understanding of American history. It also won the Ruth Ratner Miller Award for "excellence in American History," the Henry Paolucci/Walter Bagehot Book Award, and the American Historical Association's Littleton-Griswold Book Prize for the best book on law and society. Professor Maier was a consultant and prominent "talking head" for several PBS television series, including "Liberty! The American Revolution" (1997), "Biography of American" and "Primary Sources" (2000 and 2001), and "Benjamin Frankin" (2002). She has also appeared on several programs on the History Channel, and was interviewed for C-SPAN's "In Depth" series on Book TV.
Recommended Citation
Maier, Pauline, "The Strange History of The BIll of Rights" (2013). Philip A. Hart Memorial Lecture. 30.
https://scholarship.law.georgetown.edu/hartlecture/30