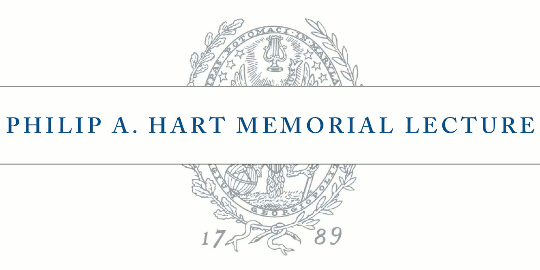 Abstract
In 1992, Professor, Frederick Schauer of Harvard University, delivered the Georgetown Law Center's twelfth Annual Philip A. Hart Memorial Lecture: "Two Cheers for Authority: Should Officials Obey the Law?."
Frederick Schauer is a David and Mary Harrison Distinguished Professor of Law at the University of Virginia. Previously he served for 18 years as Frank Stanton Professor of the First Amendment at the John F. Kennedy School of Government, Harvard University, where he has served as academic dean and acting dean, and before that was a Professor of Law at the University of Michigan. He is the author of The Law of Obscenity (BNA, 1976), Free Speech: A Philosophical Enquiry (Cambridge, 1982), Playing By the Rules: A Philosophical Examination of Rule-Based Decision-Making in Law and in Life (Clarendon/Oxford, 1991), Profiles, Probabilities, and Stereotypes (Belknap/Harvard, 2003), and Thinking Like a Lawyer: A New Introduction to Legal Reasoning (Harvard, 2009). He is also co-editor of The Philosophy of Law: Classic and Contemporary Readings (1996) and The First Amendment: A Reader (1995), and author of numerous articles on constitutional law and theory, freedom of speech and press, legal reasoning and the philosophy of law.
Schauer is a fellow of the American Academy of Arts and Sciences, has held a Guggenheim Fellowship, has been vice-president of the American Society for Political and Legal Philosophy and chair of the Committee on Philosophy and Law of the American Philosophical Association, and was a founding co-editor of the journal Legal Theory. He has also been the Fischel-Neil Distinguished Visiting Professor of Law at the University of Chicago, Ewald Distinguished Visiting Professor of Law at the University of Virginia, Morton Distinguished Visiting Professor of the Humanities at Dartmouth College, Distinguished Visiting Professor of Law at the University of Toronto, and Distinguished Visitor at the New York University School of Law. His work on rules, legal reasoning, constitutional theory and freedom of speech has been the subject of a book Rules and Reasoning: Essays in Honour of Fred Schauer (Hart, 1999) and symposia in Politeia, the Harvard Journal of Law and Public Policy, and the Notre Dame, Connecticut, and Quinnipiac law reviews. In 2007-08 Schauer was the George Eastman Visiting Professor at Oxford University and a fellow of Balliol College. A graduate of Dartmouth College, the Amos Tuck School of Business Administration, and Harvard Law School, Schauer was the recipient of a university-wide Distinguished Teacher Award from Harvard University in 2004.
Recommended Citation
81 Geo. L.J. 95-115 (1992)