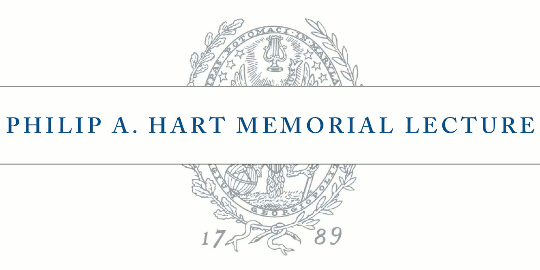 Publication Date
3-22-1985
Abstract
On March 22, 1985, Professor of Law, Norman Dorsen of New York University School of Law, delivered the Georgetown Law Center's fifth Annual Philip A. Hart Memorial Lecture: "Nativity Scenes and Judicial Responsibility."
Norman Dorsen is Counselor to the President of New York University and Stokes Professor of Law, NYU School of Law, where he has taught since 1961. He is co-director of the Arthur Garfield Hays Civil Liberties Program and was the founding director of NYU's Hauser Global Law School Program in 1994.
Dorsen performed military service in the office of the Secretary of the Army, where he assisted the Army throughout the 1954 Army-McCarthy Hearings. He served as law clerk to Chief Judge Calvert Magruder of the U.S. Court of Appeals for the First Circuit and to Supreme Court Justice John Marshall Harlan. He is the author or editor of many articles and 16 books on all aspects of constitutional law. He is the founder and was editorial director of the International Journal of Constitutional Law 2003-2009 (I•CON).
Dorsen served as president of the American Civil Liberties Union 1976-1991. Earlier, while general counsel to the ACLU, he argued many Supreme Court cases including those that won for juveniles the right to due process, upheld constitutional rights of out-of-wedlock children, and advanced abortion rights. He also helped write petitioner's brief in Roe v. Wade and appeared amicus curiae in the Gideon case, the Pentagon Papers case and the Nixon Tapes case.
Dorsen was the founding president of the Society of American Law Teachers and the founding president of the U.S. Association of Constitutional Law, an affiliate of the International Association of Constitutional Law. Dorsen also was a founding member of the governing board of the International Association of law Schools. He was chair for four years of the Lawyers Committee for Human Rights (now Human Rights First) and has chaired U.S. Government commissions for the Department of Health, Education and Welfare and the Treasure Department.
Among other honors, he received the Medal of Liberty from the French Minister of Justice in 1983 and the Eleanor Roosevelt Medal for contributions to human rights from Bill Clinton in 2000. In 2007, the Association of American Law Schools presented him with its first triennial award for "lifetime contributions to the law and to legal education."
Recommended Citation
1985 U. Ill. L. Rev. 837-868